Nurses are the engine that power a hospital to run smoothly and effectively, delivering the patient care and service that is necessary to the well-being of society. It's a job that requires constant movement and activity; unlike many other modern jobs, the bulk of this profession is not spent behind a desk.
Instead, it is a profession that involves constant movement and activity which is why comfortable shoes are a necessity. So, what types of nursing shoes are the best options for the job? Here's our ultimate guide to nursing shoes:

The Work Wonder Nursing Shoes
The Dansko professional line is considered one of the gold standard shoes in the industry. Boasting of over a quarter-century of experience providing shoes for nurses everywhere, Dansko offers two main lines of nursing shoes: traditional clogs and shoes and the "Work Wonder" shoes for nurses. The traditional nurses' clogs and shoes mix high style with comfort and support, coming in colors ranging from "wine" and "black oiled" to the more fanciful "hearts" and "paradise" styles; they'll range from $100-$150. The "Work Wonder" nursing shoes feature a "Cleansport NXT organic odor control system," as well as easy clean-up and slip resistant technology and a fit that resembles traditional styles. The "Work Wonder" lines come in similar colors and cost $100.
Nursemates ALIGN
The 
Nursemates ALIGN
 line was created in alignment with a podiatric physician and surgeon and emphasize sergonomic design with high-quality materials. Coming in slip-on or lace-up (and boasting a wide selection of eye-catching designs) the ALIGN series is one of the more stylish nursing shoes lines out there; the ALIGN shoes will cost anywhere from $89.95 to $129.00. Nursemates also offers a 
men's line of Align shoes
 (with fewer colors, and all priced at $89.95) and the 
more affordably-priced Quark line of nursing shoes
. One of the best options for any nurse starting a job in one of the traveling nurse companies out there.
Skechers Healthcare Pro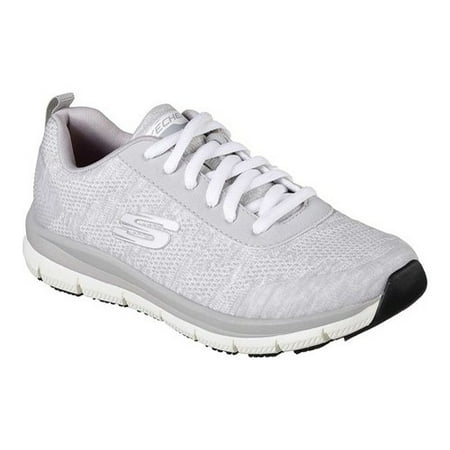 Remember the Skechers footwear brand that was ever so popular in the mid-to-late 1990s? Well,they've expanded into the nursing shoe game with their Healthcare Pro Sr collection, providing the same sort of appealing colors and styles with the foot benefits nurses need – protection from stains, slip resistance, and expanded arch support. Ideal for any nurse looking to make a colorful impact on one of the many travel nurse jobs available. The Healthcare Pro series of sneakers will run you $70.00.
Alegria Nursing Shoes
The 
Alegria series
 of nurses shoes prioritize style as much as they do comfort – and the results are often dazzling. The Alegria are some of the most fashionable nursing shoes out there, period – with styles including "Beauty Blur," "Blue Romance," "Ric Rack Rainbow," "Gothic Steel" and "Unity Black and White," the hospital halls can practically turn into a runway. Oh, and they're also comfortable – boasting slip resistance, durability, a "6-point comfort zone," memory foam, and leather linings. They're also good for the budget, too – the cheapest Alegria shoes will run you around $70, while the highest-end runs can get up to $130
Timberland PRO® Renova Slip-On Work Shoes
Timberland has a deserved reputation for making some of the most durable and comfortable work boots and shoes out there; 
their nursing shoes
 follow in the same storied tradition. There's not a huge selection of styles or colors, but again, for durability and comfort, their Renova Professional Slip-On shoes are nearly unparalleled. Again, not the most fashionable (you can choose from between black, brown and white colors), but the shoe features slip-resistant technology, Scotchgard stain resistance, full-grain leathers, cushioned footbeds, and "exclusive Anti-Fatigue technology." The shoe will cost you $120. Another bonus? Timberland offers free returns for 60 days along with free three-day shipping.
Birkenstock Nursing Shoes
There aren't many other footwear brands with a better reputation than the beloved German corporation named Birkenstock, and they make a line of comfortable, versatile and
colorful nursing clogs
. Take a look at the "Black Skull" style (if you'd really like to turn some heads) or the "Raspberry Sorbet" style (perhaps a little more appropriate for the hospital; all of the styles are unisex, and run from around $80 to $150.
Grey's Anatomy Nursing Shoes
Okay, Grey's Anatomy might not be the most accurate representation of hospitals ever on television. However … it's still pretty fun, right? Well, if your dream has ever been to literally walk in the shoes of the Seattle Grace staff, 
Softwalk Shoes has brought that into reality
. Their line of nursing shoes boasts styles called the "Meredith," the "Maggie" and the "Miranda," all named after their Anatomy characters. Not only are they fashionable and comfortable, they're reasonably priced (ranging from around $60 to $120; there's also a branded "footbed" insert option).
If you're looking to put any of these nursing shoes to work at the best travel nursing agency in California, be sure to check out what
Stability Health Care
can do for you! Stability offers:
A simplified job search tool (no recruiter needed)
Flexibility and variety in assignments
PTO for all travelers
Day-one health care, extra shift bonuses, a guaranteed stipend, and 401K
See what we're all about here!
#Popular Tags