Our team is made up of true industry veterans that have placed 1000's of nurses. Our promise as a professional firm is to always find the right opportunity for you.
We listen to what is important to you, and address your specific wants and needs. Your travel and job placement satisfaction is our number one priority.
Stability is a full-service travel nurse placement agency. We offer full benefits, housing and placement packages for every traveler's individual situation.
Timing and speed are critical when competing for the best jobs. Our proprietary Technology allows us to on-board, submit and place our Nurses faster than anyone in the industry.
Stability Nurses
are placed at only the best paying jobs
We provide travel nursing jobs that you can be proud to speak about and will assist in building your professional nursing career. National placement of healthcare professionals with dedicated support.
Service and Transparency has helped Stability become the fastest growing Travel Nursing Agency in Los Angels year over Year.
#340 on Inc's 5000 Fastest Growing Private Companies in the US!
#25 Top Health Companies
#19 Top L.A. Companies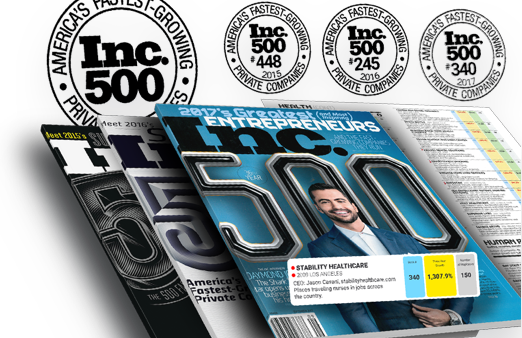 We're Dedicated
WORKING FOR YOU
Stability Healthcare was founded in 2009, with the mission of creating a staffing firm that places travel nurse priorities first. We wanted to set forth a private company, created and founded by traveling nurse experts.We sought out the finest talent across the country to build what we believe is the only nurse focused executive team. This expert knowledge delivers the highest standards of compensation, benefits and overall service to the travel nursing community.